Every fortnight (two weeks) our editor sends along a few links with the most noteworthy quote from each article, a way of keeping our team abreast of what's going on in the world around peer-learning, collective learning and knowledge sharing. We decided to share them alongside the magazine.
You can read them here or subscribe to the Tinyletter and get them straight to your inbox.
---
Can we learn to be intelligent?
To benefit from technology, we need resourcefulness. It means to be constantly looking for new tools with which to augment our intelligence. It also means new services: if you have a smartphone in your pocket, you should have an easy access to education in your pocket. Smarter and smarter tools surround us, but if we don't want to learn the new practices and take up the new roles that the new technologies make possible, they might as well not be there. It is sometimes not easy, because the challenge with new technologies is, what is called "functional fixedness", our inability to see more than the most obvious use cases.

There is more to being intelligent than using the latest technologies; how we interact with others is a crucial element of how smart we are in practice. Intelligence is social and arises in communities and communication. The world has never been a more networked place, and yet schools and workplaces still focus on individuals. That needs to change.
—
The Case for Teaching Ignorance
Michael Smithson, a social scientist at Australian National University who co-taught an online course on ignorance this summer, uses this analogy: The larger the island of knowledge grows, the longer the shoreline — where knowledge meets ignorance — extends. The more we know, the more we can ask. Questions don't give way to answers so much as the two proliferate together. Answers breed questions. Curiosity isn't merely a static disposition but rather a passion of the mind that is ceaselessly earned and nurtured.
—
How a 13 year old boy spends his spare time in helping his peers be smarter students
Aman and a few of his classmates also felt the gap and came up with the observation that a lot of their classroom peers were not able to cope up with the academic grade level of their class. Mohini adds, "We discussed this at length and through team brainstorming, we hit upon the idea of starting informal learning circles that could be run by the students and for the students." … read more on social.yourstory.com
(The language seems quite "adjusted" to me but great story.)
—
10 Core Competencies To Focus On
Learning How to Learn. Being part of a formal learning environment is like building the scaffolding for a house. Once you enter the "real world," the frame disappears and it's up to you to stay standing. Knowing how to teach yourself–and having a willingness to do so–is the only way to build a lasting foundation.
(Followed by empathy, creativity, curation, facilitation…)
—
…the best learning is often self-taught
He recommends that we must recognize "that you have to say no, know what you are saying no to, and know why you are doing so." Rheingold offers steps to greater mindfulness including rewiring your brain by repeating new behaviors until "paying attention has become habitual."
—
Knowledge sharing the 7 advantages (Slideshare)
Knowledge sharing gives staff a voice. Makes them proud of their knowledge and their performance. Knowledge sharing through social technologies leads to more visible recognition. Just imagine the strength of a "like" by the CEO or the executive management. So knowledge sharing has a positive impact on staff commitment.
—
Interesting project by Making / Learning / Work at the MIT Media Lab The New Libranet
The new Libranet is a model for facilitating in-person study groups at community libraries, organized around open online learning courses and content. On top of these materials, the model will scaffold a community learning environment to actively foster academic mindsets that are critical to deeper learning and future success of adult learners.
—
Isaac Asimov on the promise of peer to peer learning (in 1988!)
Video interview with Asimov in 88 who pretty much knows exactly what's going to happen between then and now.
Extras
Sharing this following a discussion this week; The myth of the eight-hour sleep and Segmented sleep. (We used to sleep in two segments of 4-5 hours.)
—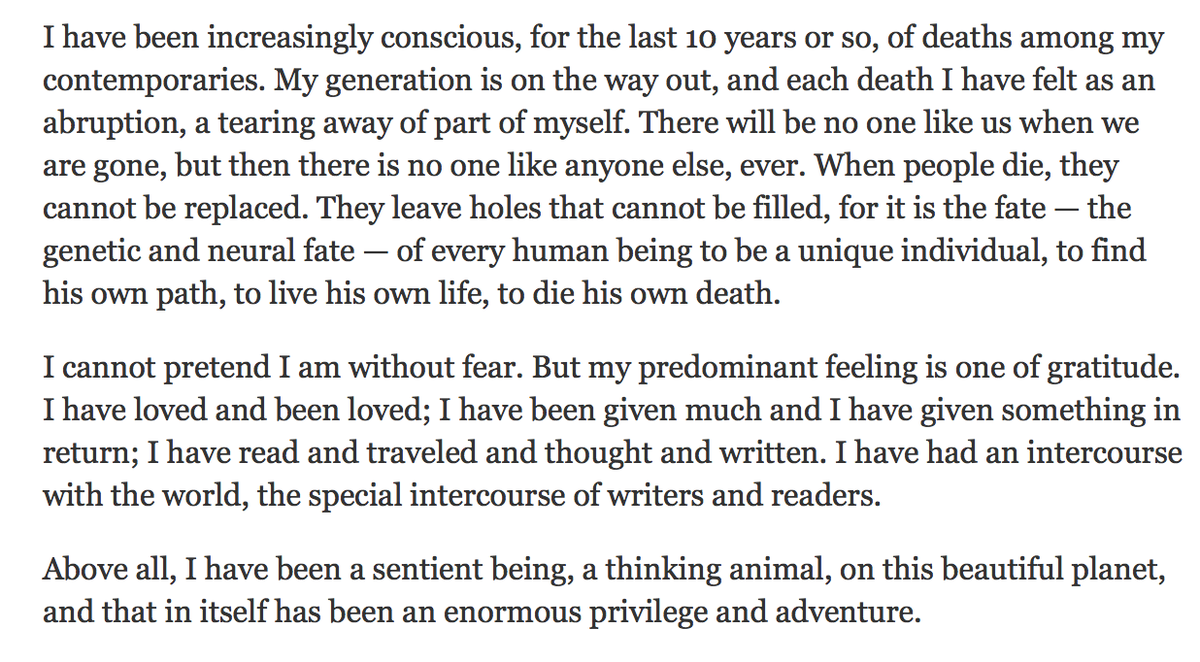 Dr. Oliver Sacks died this week, the above is in his own words.
---