We believe that to always keep learning is the best strategy a person, group or organization can adopt and live to remain effective, active, relevant and, well, happy. Every two weeks we send the most relevant articles in becoming better learners. We look at how people learn from and with each other.
You can read them here or subscribe to the newsletter on collaborative learning and get them straight to your inbox.
We decided to take a 4th of July break (hope you had a great one) on newslettering so the links are out on a Tuesday this time. We've got; airport as knowledge sharing center, great ideas on microlearning, tensions in learning and designing how your team thinks. And we again have some extra links not found in the email.
Since NASA's Juno Spacecraft setup orbit around Jupiter last night, I thought I'd share this quote related to our thinking:
"Our passion for learning is our tool for survival."
—Carl Sagan
—
The Airport City That Wants to Be the New Model for Meetings and Knowledge Sharing (6 min read)
Quite an intriguing intersection. Frankfurt Airport working on how to best leverage their position (physical and in terms of importance) to become a knowledge sharing center for logistics and mobility. They are doing so by looking at tacit and explicit knowledge, trust and the specific qualities and advantages of both virtual and face to face exchanges.
"The problem is some people say digitization is the future, so there's no need for face-to-face," Schultheis told me. "The other side says, 'I don't want to have anything to do with digitization. I want to have my traditional conferences like I always have.' We're arguing at HOLM, let's take the best parts of both sides and combine them, and we're finding that Knowledge Management can facilitate that. There's a lot of benefits if you can combine both worlds."
—
Microlearning is A LOT more than smaller content (5 min read)
Lots of good ideas for those building microlearning courses. Covers the science of learning, engagement methods, adaptability and on-demand access.
One of the reasons microlearning is "a thing" right NOW is the fact that modern technology can really ENABLE the science. … An effective microlearning program takes advantage of adaptive technology and targets individual knowledge gaps that change over time as employees continue to practice with and apply their new knowledge.
—
Tensions of modern learning (5 min read)
Starting from a table by Clark Quinn, Harold Jarche then lists some choice quotes and related articles documenting many of the tensions between what we know about learning and what we are actually still doing within organizations.
Training helped us prepare for a relatively stable workplace. Integrating learning and work ensures that we can adapt to a changing workplace. By extending the borders of work, through communities of practice and social networks, we can support social learning. Structured and goal-oriented work still needs to get done. However, knowledge workers also need to develop emergent practices through their social relationship outside the workplace. This keeps work connected to the changing external environment, through human relationships and social networks
—
Seek to Understand (5 min read)
File this one under tools for learning. Like favouring wisdom over knowledge over data, actual understanding trumps simply pursuing right versus wrong. How can one seek to understand?
The pursuit of right versus wrong is fast, is easy, and can be helpful—but it also blocks you from exploring deeper insights.

Seeking to understand is a process that requires time, space, critical thinking, and perhaps the most difficult of all, empathy.
—
Why Successful People Always Stay A Student (4 min read)
People around you possess a wealth of knowledge. Ask questions, to anyone, on any topics, even when (especially) conventional wisdom would tell you to expect nothing.
To me, it's weird that a lot of people claim that they are life learners, but completely disregard the idea of learning from other people.
From our magazine: From information to intelligence a refreshed version of our interview with Google Education's Senior Evangelist, Jaime Casap.
Extras
How to Use the "5 Hour Rule" to Radically Improve Your Intelligence and Success (5 min read)
Rules and easy frameworks are numerous and often a waste of time but I still find it useful to look at some of those articles, sometimes you do find something that fits and helps you along in your routines and processes. This one has some good leads.
What separates massively successful entrepreneurs from everyone else is their unending curiosity. They are never content to be good at just one thing or knowledgeable in a single area. They are always look to diversify themselves so that they can spot valuable opportunities when they arise. And they work towards this goal every single day.
—
Design How Your Team Thinks (4 min read)
When hiring, also consider more than what they know and how fast they learn. You want people who are able to unlearn and shift their thinking. Do they have not only mental ability, but mental agility. In some roles, it's also critical that they have an ability to the shift the thinking of others.
—
Clark Quinn: "As a person moves from novice to expert, the value of informal learning goes up."
via @vidyakumar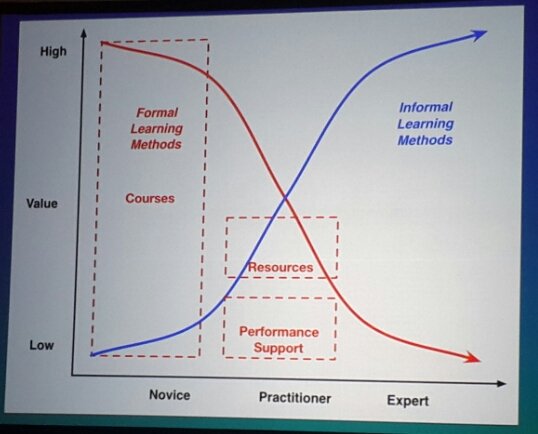 Extra Extras
What does L&D "transformation" really mean?
George Washington's Practical Self-Education
21 Awesome Places to Learn Critical Skills That Will Change Your Life
De Correspondent rewards members for knowledge-sharing
Crazy or Brilliant: Marriage of Deeper Learning and Personalized Learning
Header image by Ashim D'Silva on Unsplash.
Save
Save
Save
---